By Sugandha Indulkar
January 8, 2018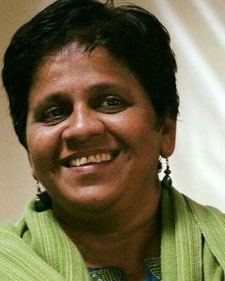 Hasina Khan, one of Beebak's founders
Bebaak Collective, a group focussing mainly on empowerment of Muslim women, was one of the Supreme Court petitioners opposing the validity of unilateral triple Talaq. Today, it's against government's triple Talaq bill. Hasina Khan, one of Beebak's founders, explains their reservations to Sugandha Indulkar:
Why are you opposing the triple Talaq bill?
We are not affiliated to any political party. We also do not support any Muslim religious organisation opposing the triple Talaq bill. Having understood this, we firmly believe that the bill is a mere eyewash.
Real problems are faced by Muslim women who are denied fundamental rights – like freedom to pursue a successful career, not to be held at the mercy of their own families or mullahs, et al. Article 14 and Article 21 of the Indian Constitution which awards certain fundamental rights to all Indian citizens do nothing for these women, who are governed by Sharia – the Muslim personal law.
Bebaak Collective appeals to the government to pass a bill which works towards ending the disparity between Muslim personal law and the laws mentioned in the Constitution. Triple talaq bill makes no mention of these rights. It holds no promise of bettering the lives of Muslim women.
Do you mean to say the Constitution is not higher than the Muslim Personal Law?
I always have had faith in Indian democracy. In the past, in each case, government had taken into confidence several civil rights groups and women's groups, thereafter appointed a committee to examine closely all the provisions of a bill and then tabled it. In each case, right from the 2003 amendment to the PCPNDT Act (Pre-Conception and Pre-Natal Diagnostic Techniques Act, 1994) to the 2005 Domestic Violence Act, to Section 498A under IPC – women's rights groups have worked closely with the government and helped include effective provisions in the bills. This ensured that such bills truly work for women. The current authoritarian stand of the government isn't acceptable in India.
Why are you opposing criminalisation of triple Talaq specifically?
We are against criminalisation, primarily because it is inconsistent with the very provisions of the bill. On October 10 we met minorities minister Mukhtar Abbas Naqvi, before which we had met Vijaya Rahatkar, chairperson of the Maharashtra State Women's Commission. We requested the minister to create a committee to represent Muslim women which would have highlighted the plight of such women.
Divorce is a civil matter which cannot be made into a criminal matter. The bill states that a Muslim man who pronounces a Talaq can be imprisoned. The bill does not have detailed provisions and definite clauses about how they will be implemented.
What is the government trying to do? It is not addressing the issues faced by Muslim women. Is it trying to target the Muslim community at large and mocking at the Muslim personal law? Why is it paving the way to criminalise a civil issue? Is this not a saffronisation policy? Why weren't Muslim women's groups allowed to discuss the nuances of the bill before it was tabled?
Let me enumerate why we are opposing criminalisation: There is no rationale to criminalise the practice of Talaq-e-Biddat (triple instantaneous Talaq); since marriage is a civil contract the procedure to be followed on its breakdown should also be of civil nature; the bill is limited to triple Talaq and does not address matters related to polygamy, practice of Halala (remarriage of a Muslim woman) and other issues of discrimination faced by women in marriage and family; and criminalisation of instant triple talaq will further stifle the voices of Muslim women instead of offering them avenues for justice. All we want is an honest bill which will keep a civil issue within the civil domain.
Aren't law and justice above religion?
Law and justice should always be above religion. Religion is a very personal matter – related to one's belief and faith.
You think this bill will worsen the condition of oppressed Muslim women?
If the divorce is declared void, which means the man and woman are still in marriage, the question of subsistence allowance cannot emerge. Secondly, if the husband is imprisoned, from where will he provide for the subsistence allowance? Thirdly, will the woman be allowed to live in the married family after such a 'void' divorce? Where will she go, if she is thrown out by the husband's family as their son is jailed because of the Talaq?
The status of such a woman isn't clear at all: is she still married because of a Talaq which has been declared void, or is she divorced? How will such thoughtlessly made provisions do any good to anyone – either the oppressed woman, her children, or her family?
Related Articles:
1. Triple Talaq Controversy: Male Chauvinist Indian Ulema Are Subverting Islam to Mislead the Supreme Court
http://www.newageislam.com/islam,-women-and-feminism/sultan-shahin,-founding-editor,-new-age-islam/triple-talaq-controversy--male-chauvinist-indian-ulema-are-subverting-islam-to-mislead-the-supreme-court/d/110784
2. Triple Talaq Row: Social Boycott as Punishment Is Juvenile; AIMPLB Scholars Must Follow Quran and Accept Inevitability of Change
http://www.newageislam.com/islam,-women-and-feminism/sultan-shahin,-founding-editor,-new-age-islam/triple-talaq-row--social-boycott-as-punishment-is-juvenile;-aimplb-scholars-must-follow-quran-and-accept-inevitability-of-change/d/110811
3. Triple Talaq Must Be Invalidated Constitutionally and Criminalized – Inclusion of Prohibitive Clause in Nikahnama Could Allow Its Perpetuation by Defaulters
http://www.newageislam.com/islam,-women-and-feminism/muhammad-yunus,-new-age-islam/triple-talaq-must-be-invalidated-constitutionally-and-criminalized-–-inclusion-of-prohibitive-clause-in-nikahnama-could-allow-its-perpetuation-by-defaulters/d/111139
4. AIMPLB Advocates Of Instant Triple Talaq Are Gender Terrorists And Traitors Of Islam And May Be Sued For Human Rights Violation Under Cover Of Religion
http://www.newageislam.com/islam,-women-and-feminism/muhammad-yunus,-new-age-islam/advocates-of-instant-triple-talaq-are-gender-terrorists-and-traitors-of-islam-and-may-be-sued-for-human-rights-violation-under-cover-of-religion/d/110871
5. The Process for Divorce in the Quran
http://www.newageislam.com/debating-islam/naseer-ahmed,-new-age-islam/the-process-for-divorce-in-the-quran/d/104516
6. Sultan Shahin Raises Triple Talaq Issue at UNHRC, Asks Muslims to Engage In Serious Rethinking Of Islamic Theology and Bring It In Line With the Needs of 21st Century
http://www.newageislam.com/islam,-women-and-feminism/sultan-shahin-raises-triple-talaq-issue-at-unhrc,-asks-muslims-to-engage-in-serious-rethinking-of-islamic-theology-and-bring-it-in-line-with-the-needs-of-21st-century/d/108677
7. The Triple Talaq Case: The Unjust Muslim Men and Their Unjust Leaders
http://www.newageislam.com/islam,-women-and-feminism/naseer-ahmed,-new-age-islam/the-triple-talaq-case--the-unjust-muslim-men-and-their-unjust-leaders/d/112343
8. Instant Triple Talaq Judgment and After
http://www.newageislam.com/islam,-women-and-feminism/arshad-alam,-new-age-islam/instant-triple-talaq-judgment-and-after/d/112358
Source: blogs.timesofindia.indiatimes.com/the-interviews-blog/all-we-want-is-an-honest-bill-which-will-keep-a-civil-issue-within-civil-domain-and-better-the-lives-of-muslim-women/
URL: http://www.newageislam.com/interview/sugandha-indulkar/all-we-want-is-an-honest-bill-which-will-keep-a-civil-issue-within-civil-domain-…-and-better-the-lives-of-muslim-women/d/113879