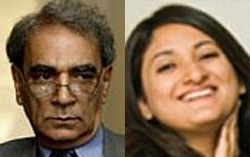 By Dr. Munawar A. Anees and Maryam Iraj, New Age Islam
10 September, 2014
"The media is the most powerful entity on earth. They have the power to make the innocent guilty and to make the guilty innocent, and that's power. Because they control the minds of the masses." - Malcolm X
Beyond the power dynamics, media - the fourth pillar of the state - is pivotal to a functioning democracy, social enlightenment, and entertainment. None of the above seems to be functional when it comes to the mushrooming electronic media in Pakistan, in many instances, owned and operated by the entrenched print establishment. This in spite of the enviable freedom it enjoys.
In channel programming, domains like education, arts, health, science, culture, world affairs, history, environment, technology all belong to terra incognita. But Talk Shows on political themes are aplenty engaging over a dozen analysts with oft predictable insights. They are recycled by nearly all channels. At any given Talk Show, up to five speakers may be hooked to the host via audio or video feed, cramming your screen to the brim. Help yourself with the shouting matches.
Inscrutable is the naming convention for many of these shows. Anomalously, some are crowned with a title in English for a programme in Urdu. Most others stretch your imagination to a series of cryptic names. The enigmatic side of this naming convention is near universal lack of an organic link between the name and the programme contents, unless it is an "innovative" branding strategy.
Woe unto thee if you ever switch on your TV in search of enlightenment or entertainment. Instead, a ceaseless barrage of "breaking news" is what you face round the clock. No distinction is made in assigning the "breaking news" status to reported item, be it the next Mars landing or a person landing in an uncovered manhole. All news are kosher for breaking.
The screen real estate looks more like a Facebook display of some Quabza group (land mafia) with the intent to grab every single pixel out there. Many channels run a minimum of three to four tickers, a large animated logo, and in many cases, date, time, static weather data, and currency rates, with the added pop-up advertisements. On others, some creepy creatures make their unexpected and uncalled for appearances unfurling a big banner. Tickers are often marred by typos and text overlaps. They run unattended for correction. But perhaps nothing surpasses the most unintelligible use of computer animation where text and graphics form a kaleidoscope unfit for even children's comic series.
Live reports running for a considerable period of time leave you with a sense of wilderness: who, what, when, where, why – all the five essentials of a report are so badly intermingled that sequential/chronological identification of these elements becomes impossible. A visible time-stamp on different episodes can easily resolve this problem, without getting text and moving images out of sync.
Mercifully, all this may not qualify as the cardinal sins of the electronic media for it is an emerging industry in Pakistan with its attendant problems of technical and intellectual resources. Nonetheless, the merciless maraud by the media of not one but two languages – Urdu and English – is indefensible.
Consider the case of Pinglish, the Pakistani English as it has come to be known. For their own lapses, both Persian and Polish share the same term with Pinglish. The online Urban Dictionary (http://www.urbandictionary.com/define.php?term=Pinglish) defines it as "Pakistani's stint with English which is no less than Havoc. Distorted English spoken by Pakistanis."
The daily Indian Express (http://archive.indianexpress.com/news/get-set-for-pakistani-english-or--pinglish-/335835/) has alerted its readers (their own Hinglish notwithstanding) to "Get set for Pakistani English or 'Pinglish'" by inserting hilarious quotes in the like of: "Since I have to go to my village to sell my land along with my wife, please sanction me one week's leave." And the classic PTV (http://www.pinterest.com/sheryhydri/pinglish/) faux pas, at Pakistan vs. India cricket series, says it all: "We want them win." Finally, a website on business English (http://blog.busisenseenglish.com/2013/01/pinglish-vs-english/) has this advice for the unwitting users of Pinglish: "if you want to make it big on the international market place, consider taking up some English language lessons from a centre where international English is spoken, or even try to find one where the English language instructor is a native English speaker."
Not long ago, both print and broadcast media were regarded as the custodians of linguistic purity. Recall Shakeel Ahmad, Masud Tabish, Omar Qureshi, Anita Ghulam Ali, Jamshed Marker and many others. No more. Urdu, unfortunately, is the biggest victim of code-switching where a word is substituted from the second language for the stock of the first. Exploiting the legendary magnanimity of the Urdu language, the electronic media is acting as an usurper of the pristine beauty of our national and a leading language of the world. Every third word spoken is a borrowed one for as common as need (Zarurat), opposition (Ikhtilaf), break (Waqfa), ad infinitum, to make us believe of paucity of Urdu vocabulary.
While editorial and technical fine-tuning of our electronic media is called for, it is time for serious introspection on the muddle media is creating in the domain of our linguistic competence. Inexcusable.
Dr Munawar A. Anees is an internationally accomplished writer and social critic. He is the Founding Editor of Periodica Islamica and International Journal of Islamic and Arabic Studies, among many others. He is one of the Founding Members of International Society for Science and Religion, Cambridge University.
Maryam Iraj is a Fulbright Scholar with a focus on English literary studies and transnational higher education. She was the Founder of Institute of Communication and Cultural Studies.
URL: http://www.newageislam.com/islam-and-the-media/dr-munawar-a-anees-and-maryam-iraj,-new-age-isla/the-media-muddle/d/98989